For over 70 Years! Since 1948 -- Ideal for a Maine Vacation!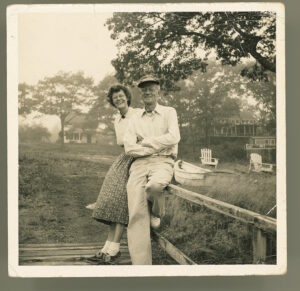 The property was purchased in 1832 by current manager Wendy Thorpe's triple-great-grandfather, Charles Thorpe. The family lived in the existing 1780 house and used the property to graze sheep and cattle, and as a base for a fishing operation. A new house was built in 1870 by Wendy's great-great-grandfather William Thorpe, in anticipation of the birth of Lewis Thorpe, Wendy's great-grandfather.
The Harborfields business began in 1948 following the construction of the Lodge and the Shore Cottage by Wendy's grand-parents, Dick and Peggy Thorpe. With these additions, the original 1780 house was rented out for the season, and individual rooms were rented in the Lodge. Peggy Thorpe served breakfast in the main 1870 house for the convenience of the Lodge guests. The success of this small operation inspired the construction of the Hillside cottage the following year (1949). Deck, Rock, Terrace, and Wharf cottages were added in succeeding years (1950 through 1953). The Pine cottage was the last, built in 1957. Harborfields was incorporated as a Maine business corporation in 1961.
Watercolor paintings by Dick Thorpe grace the walls in the cottages, Lodge, and 1780 House. These landscapes and seascapes were painted with a great love of the area.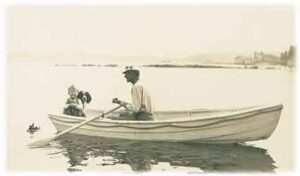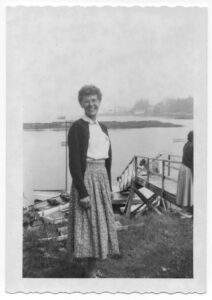 Since Peg Thorpe's passing in 1984, Harborfields has had several managers who ran the business on behalf of the Thorpe family. A new era began in 2012, however, with Dick and Peggy Thorpe's granddaughter Wendy Thorpe taking on responsibility for the business.
We extend a warm invitation to spend your vacation time in Maine with us, and enjoy the many activities to be found both right here at Harborfields and in the Boothbay region, while relaxing in friendly informality and discovering what our guests have been discovering for over 70 years - a place where even time relaxes!
Wendy Thorpe